Posted by

CPW-Northwest Premier Insurance

on
Make sure your college student knows how to stay safe as they embark on life's next great adventure. Although it's unfortunate, statistics show crimes like assault and theft on college campuses follow trends within the broader community. Changing risks have led some institutions to consider increasing their campus police force and stepping up emergency notifications to ensure students know about nearby incidents and how to protect themselves.
Here are some best practices for staying safe on campus and beyond: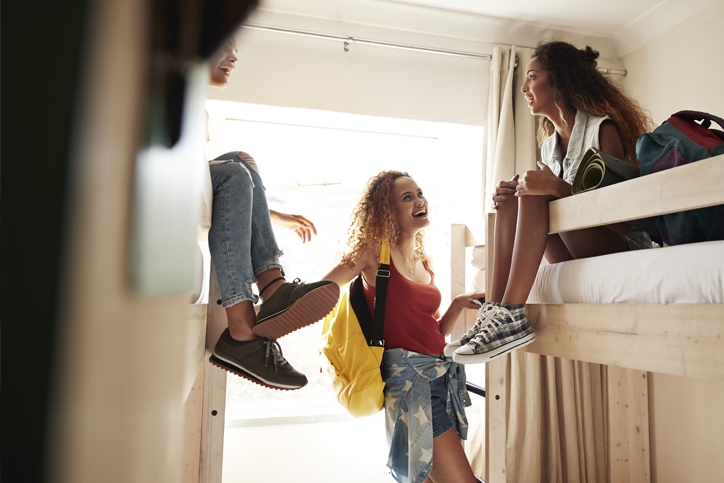 How can my student improve safety in the dorm?
Get to know their neighbors. Having a built-in community of people sharing a similar experience is one of the perks of dorm life. So is having friends who can help if they're not feeling well (a pharmacy run for Tylenol and tissues) or who will notice if they don't show up as usual for meals, the gym or classes. Apps like Find My for iPhone add extra peace of mind among trusted friends.
Lock doors and windows when they leave and sleep. Encourage roommates to lock up, too, so private spaces truly stay private and belongings stay protected from theft. PEMCO's homeowners and renter policies automatically extend 10% of personal property coverage to belongings students take with them to campus. For most students, that's more than enough to cover valuables like laptops, clothes and sports equipment.
Be fire-smart. Use flameless rather than traditional candles. Turn off portable space heaters when they leave or sleep. Keep flammables away from baseboard heaters.
Trust their instincts. That classmate who seemed so friendly in the dining hall may not be quite as nice after a few drinks at a party. According to an Association of American Universities survey, more than 23% of women reported nonconsensual contact while in college. Make sure your student knows that if they feel uncomfortable, it's not "over-reacting" to leave, and "no" always means no. Remind them it's best to trust their instincts rather than second-guess them.
How can my student improve safety when walking around campus?
Walk with a friend – or better yet, a group. The saying "safety in numbers" is true, especially when walking back to the dorms from an evening class or late-night event.
Ask for a security escort when walking to a dark parking lot. Add campus security to their phone contact numbers. Campus security is a resource that should be utilized.
Head up, no phone scrolling, and earbuds out. Staying aware of their surroundings and appearing alert and purposeful makes students less vulnerable. Some students even call a friend or parents when walking alone so that someone knows exactly where they are and, if something happened, could immediately call for help and direct responders to the student's location.
Avoid shortcuts. Stick to main, lighted walkways rather than cutting through parking lots or between buildings.
How can my student improve the safety of their car?
Park in well-lighted areas. It's better to risk getting a door ding in a busy spot near a building's entrance than to choose a secluded spot at the back of the lot that could be attractive to car prowlers or catalytic converter thieves.
Use a car alarm and steering wheel lock. While a determined thief can defeat both, the goal is to make breaking in enough of a hassle that they'll pass by in search of an easier target. Always lock up, and never leave a car running unattended to warm up on a frosty morning.
Keep the car cleaned out. Even a coat left in the backseat or spare change in the console can be enough enticement for a thief to break in.
Don't put off maintenance. A funny noise or the check engine light means it's time for a visit to a mechanic. A potential breakdown leaves both your student and their car vulnerable.
To learn more about keeping students safe during their travels to and from campus, check out Tips for solo road trips and take-along essentials for your student returning to school.